It's the brilliant new breakthrough from Amoena that's like nothing we've seen before.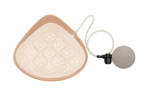 The Adjustable Adapt Air uses the most advanced technology to allow you to increase and decrease the volume of the breast form to suit you. And it's designed for comfort, offering the same quality, look, and feel as all Amoena breast forms.
Are you in between sizes? Not everyone is a perfect match for a breast form size. Finally, the days of having to settle for 'close enough sizing' are over. With the Adapt Air, you can customize the form to the exact size you need.
Does your breast size fluctuate? Many women experience frequent changes in breast size. The reasons for the fluctuations may include menstrual cycle, hormone treatment, lymphoedema, or weight changes. The Adapt Air adjusts easily so you can have perfect symmetry every day.
Do you have an uneven chest wall? The Adapt Air comfortably hugs your chest wall for perfect skin contact. This means if you have a concave chest wall or scarring, you will no longer have gaps between your chest wall and the back of your breast form. Our customers are overjoyed with the close fit they couldn't have before. "I was nearly in tears," said one woman, echoing the experience of others. "The result was absolutely amazing."
Do you find it difficult to wear different bra styles? With the Adapt Air, you can adjust the breast form volume to fill your cup completely to allow you to wear a greater variety of bra styles.
The Adapt Air is extraordinarily simple to adjust to the right size. It comes with a special pump that's easy to attach to the breast form. Once you adjust the Adapt Air to your ideal volume, the air stays securely in the chamber. You can enjoy the very tightest hugs in total confidence (after Covid of course!). The air won't escape and can only be removed by the special pump.
Come in to see if the Adapt Air is right for you. Until November 30th just trying on the Adapt Air breast form and letting us know what you think, will give you the chance to win a $500 Amoena Textile Shopping Spree!