Our Blog


Author: Gillian Date Posted: 20 June 2018
Last month I visited Fiji for the first time. It wasn't for a holiday but to fit women there with the breast forms and bras kindly donated by you, Colleen's customers.
I travelled with Heather who started this amazing service eight years ago.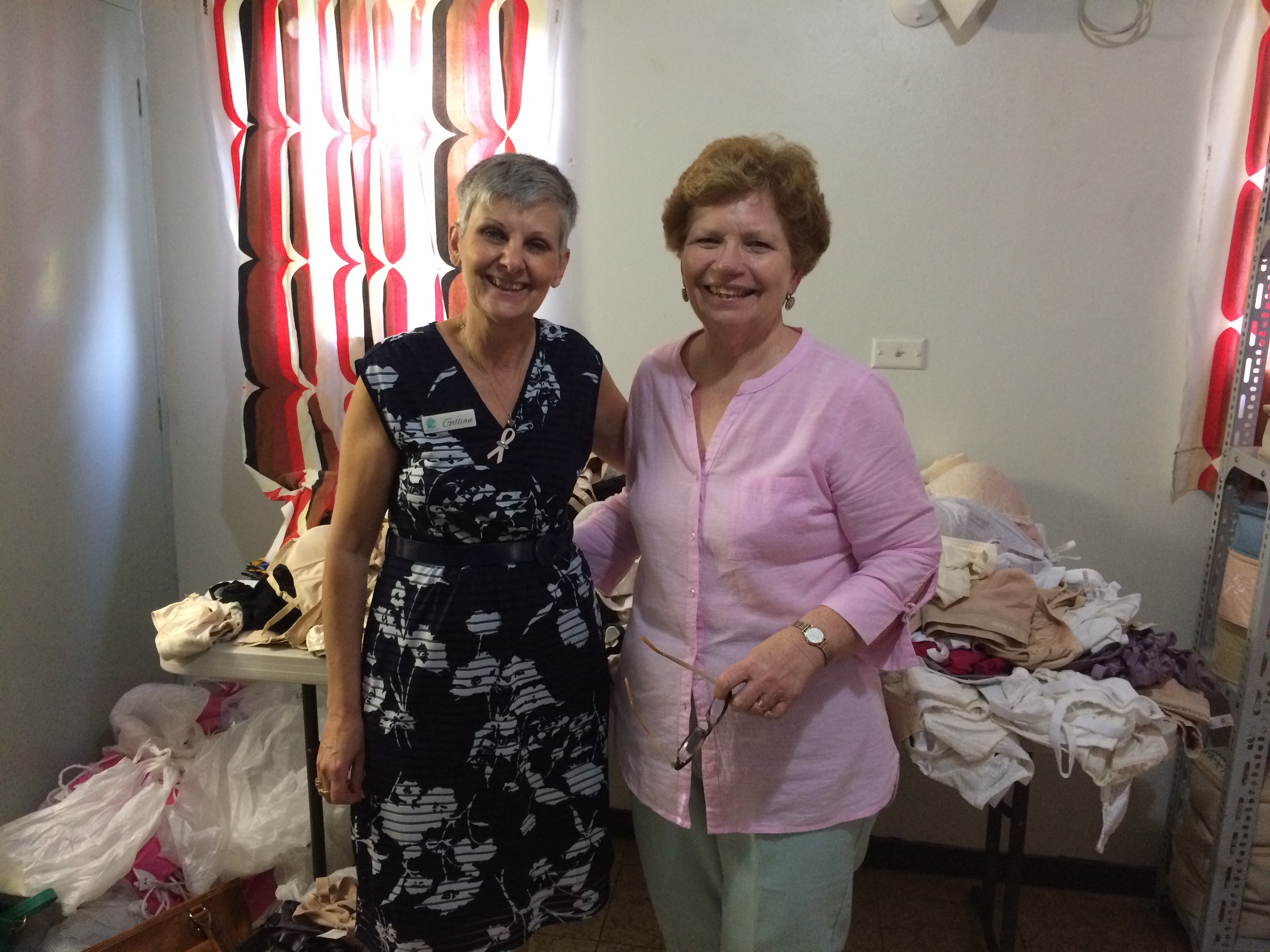 We travelled to Suva where we set up in the offices of the Fiji Cancer Society. Our first lady arrived with her husband. It was her very first fitting. It was a vey emotional fitting for all of us. The day continued with 19 ladies coming to be fitted. One lady had her surgery 20 years ago and h...
---
Author: Gillian Date Posted: 1 February 2018
This year marks 10 years since my breast cancer diagnosis, a milestone definitely worth celebrating.
As I reflect on the past ten years I remember the challenges, the ups and downs (the biggest rollercoaster ride!!) and where I am today, providing a service for women just like myself. Being able to offer the largest and most up to date range to meet your needs is the driver for me to continually add new products from all over the world and I ...
---
Author: Gillian Date Posted: 16 July 2017
"Don't be afraid to take an unfamiliar path, SOMETIMES, they're the ones that take you to the BEST places" Unknown
The words above were given to me as a bookmark when I took over Colleen's in January 2014. I was about to embark on a very unfamiliar path in one sense and yet a very familiar one on the other.
My breast cancer diagnosis in 2008 threw me onto a very unfamiliar path, one I had no control over and one which was more like a mountain climb. As I navigated my way up that mountain, stumbling many times, crashing down at other times, I had no idea that this unfamiliar path would lead me onto another unfamiliar path, one which I continue to travel.<...
---
Author: Gillian Date Posted: 4 March 2017
"Spoilt For Choice" I heard these words the other day on breakfast televison and as I drove to work I reflected on my own experience of shopping for bras after my mastectomy in 2008. I had an incredible powerful fitting for my first breast form. Going in to be fitted, apprehensive, stripping off and viewing my new body shape in the mirror, something I wasn't in the habit of doing feels like it was yesterday. I was more taken by the fact that my silhouette became even again and no one would ever know I was a one breasted woman! I didn't really think about the bra I was wearing, I was just so overjoyed I looked "normal" again. It wasn't until I asked if there were any halter neck bras that ...
---
Date Posted: 8 October 2016
With the news that Colleen's is moving from its current location in Philip to Garran, I wanted to share with you my journey and why I decided to move the shop.
Since my diagnosis in 2008, a lot has changed for women diagnosed with breast cancer, treatment is now done differently, e.g. chemotherapy before surgery. So it is with the choice of pocketed bras, a lot has changed. At my first fitting there were mainly, white, nude or black bras, not very pretty and certainly no strapless ones (for someone like me who liked wearing halter neck dresses this was something that took me a long time to come to terms with!!).
Today, not only do we have pretty b...
---
Author: Gillian Date Posted: 9 September 2015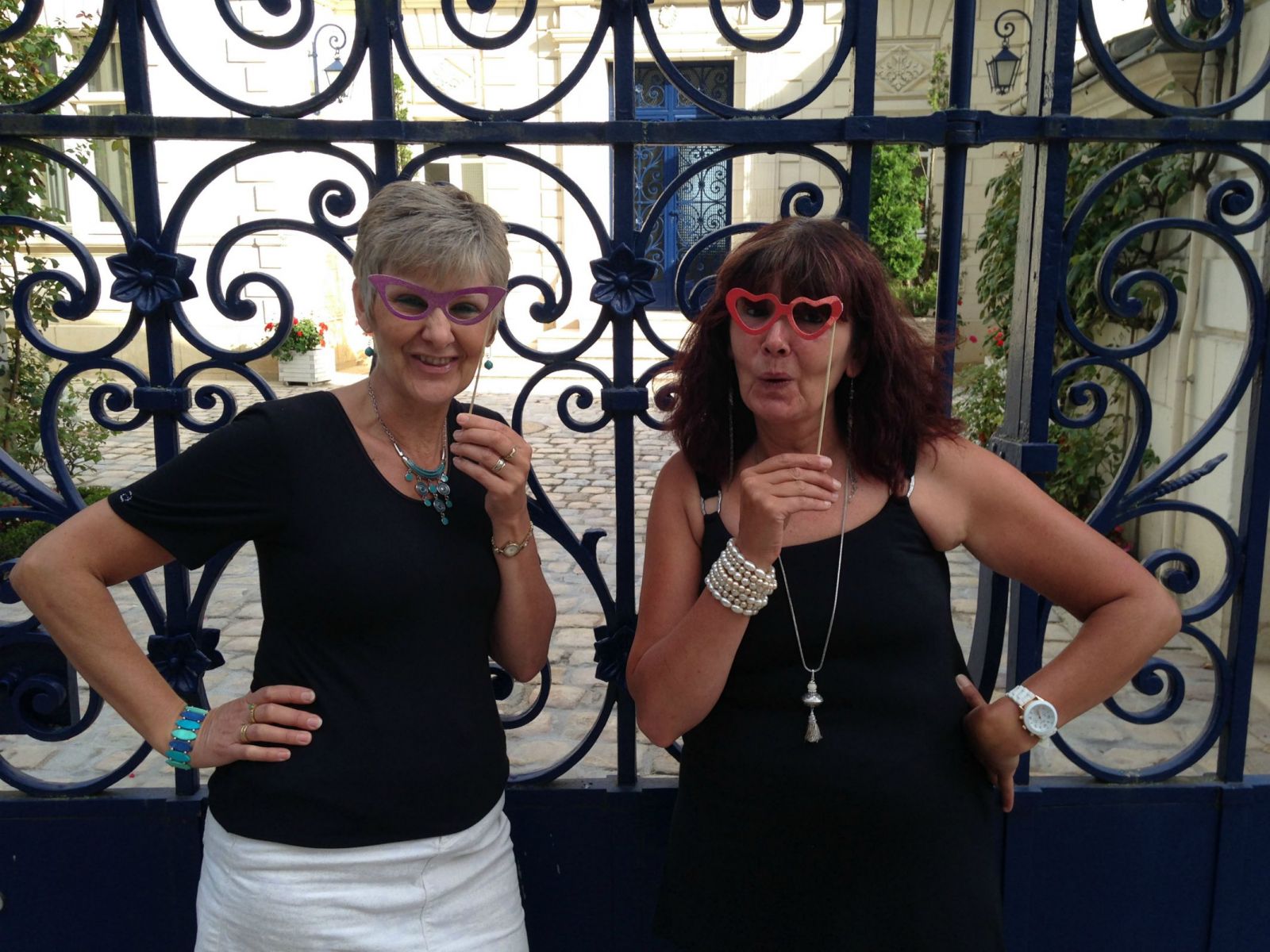 I love what I do!
But I also recognise the importance of taking a break, relaxing and re-energising and that's why I recently travelled to France. As well as eating far too much cheese, I caught up with my sister who lives in England. Whilst there we decided for a bit of fun to model and take photos of us in the pocketed leisure wear I had brought with me. This isn't just any leisure wear! Each top has a built in pocketed shelf bra to fit a breast form, so no need to wear a bra and in the heat, yes it was hot in F...
---
Author: Mandy Cox Date Posted: 28 August 2015
Canberra Grief Centre had an opportunity to meet together at Colleeens to discuss the journey of breast cancer through the lens of loss and hope.
A small group met together and we were able to spend time hearing more of each one's story of breast cancer and recovery. Interwoven into these stories we were able to explore elements both of the losses incurred as well as the gradual hope that emerged for each one as they walked down this path.
We were able to touch on some of the elements of grief that are sometimes associated with breast cancer and identify these as real aspects of the grieving experience.&nb...
---
Author: Belinda Hawkins Date Posted: 30 June 2015
I'm sorry, it's cancer.
And with those words, we're catapulted onto the emotional roller coaster that comes with a cancer diagnosis.
Most people don't realise there is such a strong correlation between our emotions and our survival. Research shows our psychological wellbeing is associated with decreased rates of death and lowers the risk of cancer recurrence. Not to mention improved quality of life.
So with emotional health such an important aspect of healing, how do we manage those difficult emotions?
First let's understand what emotions really are.
There are a few important things to learn here. The first is that the emotional part of ou...
---
Author: Catherine McCoy Date Posted: 2 June 2015
For our April Evening at Colleen's Catherine explained why we should have a diet low in carbohydrates. Below is a summary of the Evening. Our next Evening is on Thursday 25 June Belinda Hawkins from embracingchemo.com.au will talk to us about: Cancer: Learning to ride the emotional roller coaster.
---
Author: Gillian Horton Date Posted: 16 April 2015
I have introduced monthly Evening at Colleens with guest speakers as a way to share information and offer support to those affected by cancer.
The speaker for our first Evening was Catherine McCoy from iNaturally who spoke about ways to manage your stress and overwhelm after a breast cancer diagnosis. Some tips included:
Food for Mood
Having a healthy diet with plenty of protein, fresh fruit and vegetables and good fats will help you to not only feel better physically, but mentally/emotionally as well. Catherine will talk more about nutrition in our next Evening at Colleen's on Thurs...
---
Author: Tina Doueihi Date Posted: 12 March 2015
Red Fern Lingerie is a new, exciting Australian mastectomy lingerie brand. It has been my dream to create a brand that understands my sister survivors and returns the choice to us when we shop for our lingerie.
The seed was planted to do something at my first fitting after surgery, nearly seven years ago. I went to a specialist boutique to purchase the bra and was horrified at the lack of styles available. Basically my choice were bras that looked like they belonged on my great great great grandmother, not a 37 year old woman...
---
Date Posted: 3 March 2015
When women walk into Colleen's they are not only surprised by the choice of bras on offer but at the choice of other fashion items, all with built in pocketed bras. We have just received our new line of leisure wear, active wear and sleepwear.
The Valletta top comes in black and white all year round and then each year you can buy them in fashion colours. We now have in stock orchid and jade with bilateral pockets so you can go bra-less. http://www.colleens.com.au/leisurewear/
When I ...
---
Date Posted: 1 February 2015
It's been a year since I took over Colleen's and I have loved every minute of it. It's exciting seeing the choice in swimwear increase and having a large range to choose from through out the year ensures you can buy what you need at anytime. I am enjoying visiting regional areas and bringing Colleen's products and services to more and more women. We've already introduced the latest breast prosthesis and in 2015 there will be many more new products, including a new range of bras and more pocketed leisure wear.
I am often asked if I work 7 days a week and do I take a break? Even though I love what I do, I make sure that I take time for myself. I've learned the hard way w...
---
Author: Gillian Date Posted: 19 August 2014
In April 2008 I went for my routine mammogram. I had been having yearly mammograms due to a family history of breast cancer. I'll never forget the call back phone call from Breast Screen ACT. The staff were wonderful, although it was all a bit surreal sitting in a robe with other women, all of us in the same situation. I knew that statistically at least one of us would be diagnosed with breast cancer. After another mammogram and biopsy I was free to go. 5 days later I was back at Breast S...
---
Author: Gillian Date Posted: 21 July 2014
Trying on a bra or lingerie in a public change room can be daunting for us all. Catching our mirrored reflections whilst we fit, lift and clip as fast as we can.
We have all been there. Now imagine what a woman who has just lost one or both breasts goes through in that same change room.

Colleen Findley's story is of a lingerie department change room not only changing her life, but the lives of thousands of local Canberra women facing the daunting task of buying a new bra for their new bodies – post mastectomy.

Thirteen years ago Colleen was standing in a department store change room with tears pouring dow...
---
---
Comments (1)
Congatulations

22 July 2014

Congratulations on the website providing more options for the ladies, while still serving them the old fashioned way.
---
Leave a comment