Measuring for a Mastectomy Bra
Band Size: Using a tape measure in cemtimetres measure under your bust. Place the tape around your ribcage, directly under your bust. Make sure the tape measure is parallel to the ground. Note your measurment and refer to the table below. For example if you measure 79cms then you would be underband size 36.
Cup Size: With a bra on, measure the fullest part of your breast from your breastbone across your nipple to the center of your back on the side that did not have the unilateral mastectomy, and double that measurement. For example if you measured 48cms, double it to 96 and you would have a C cup size. If you had a bilateral mastectomy, simply refer to the bra size chart using only your band measurement and choose which cup size you would like to be.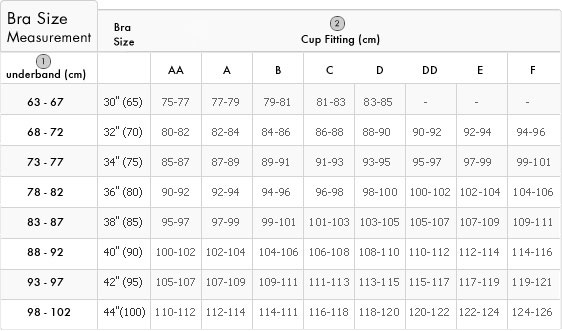 Determine Your Bra Size By How Your Current Bra Fits:
If your bra rides up in the back:
You need a smaller band size
If your band digs in:
You need one band size larger
If your cup overflows:
You need one cup size larger
If your shoulders ache:
Loosen your bra or opt for a bra with wider or cushioned straps.
If your bustline sags:
Shorten the straps, avoid stretchy fabrics, or choose a firmer support style with rigid straps
If your straps slip:
Tighten your straps or opt for a bra with wider straps
If the underwire pinches or pokes you:
The cup size is wrong and you need to try a size smaller or larger

Swimsuit Sizes
We carry a range of swimsuit brands which may have slight variations in size depending on the style. As a rule of thumb, your dress size should be your swimsuit size. If you are pear shaped consider a two piece and fit to your top half. If the bottoms are too small you can buy larger bottoms separately.