Thoughts During Covid-19
Author: Gillian Date Posted: 27 April 2020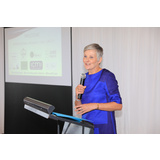 I've heard a lot of people talk about things not going back to normal after corona virus restrictions are lifted and instead are saying that it will be a "new normal". Now where have I heard those words before? It takes me back to my breast cancer diagnosis 12 years ago when those who had walked my path before me told me that things would never return to normal but that a "new normal" would emerge.
Hearing those words again now, are somehow reassuring. I went through a process where my life was turned upside down, I grieved for things I lost, I tried to make sense of things, I struggled emotionally, mentally and physically. It took time but I emerged more sure of myself, more sure of what I wanted and didn't want in my life and I grasped life with so much more passion and determination to help others on a similar path. My "new normal" turned out not to be scarey. I'm doing things that I had never even thought of, like owning Colleen's and running a business, becoming a public speaker (even that wasn't scarey as I was surrounded by so many amazing women cheering me on!), travelling the countryside to do fittings when I developed a fear of driving just after my treatment finished. Meeting so many wonderful women on the same journey to laugh with, cry with, share our stories, ones I would never have met otherwise.
In listening to what's happening around us I recognise so many similarities, grief - due to so many plans thwarted, at what's going on in the world, loss of work, of face to face conversations and hugs, of life as we know it, anger, bewilderment, uncertainty. The difference this time is that we're all in it together, there's no one to tell us it's going to be ok, no one has walked this path before, there are no reassurances only an uncertain future. But then the future has always been uncertain, all we have is right now and what we do today is what really matters.
---
Leave a comment