Story of Colleen's
Author: Gillian Date Posted:21 July 2014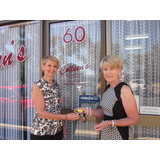 Colleen's Story
Trying on a bra or lingerie in a public change room can be daunting for us all. Catching our mirrored reflections whilst we fit, lift and clip as fast as we can.
We have all been there. Now imagine what a woman who has just lost one or both breasts goes through in that same change room.

Colleen Findley's story is of a lingerie department change room not only changing her life, but the lives of thousands of local Canberra women facing the daunting task of buying a new bra for their new bodies – post mastectomy.

Thirteen years ago Colleen was standing in a department store change room with tears pouring down her face, recovering from a mastectomy and trying to find a new bra and prosthesis to fill the spaces where her breast tissue had once been. After being handed a cumbersome, ugly bra, ten times to big in hospital, Colleen had asked a sympathetic community nurse to help her find a bra to suit her petite build off the rack. As she looked at herself in the mirror, Colleen's nursing background and proactive, caring nature kicked in.
"This has to change! I don't want any more women to have to go through this."

Determined to make a difference in post mastectomy support and care, Colleen contacted a European company who specialise in external prosthesis and whilst still recovering from chemotherapy, she flew to Germany for training in how to fit prosthetics and bras. On her return she opened a store, which specialises in Post Mastectomy support and products Colleen's.

Colleen's is so much more than a lingerie store. It is a haven of support and advice for the women of Canberra and surrounding regions who are battling breast cancer and finding out what their new normal means. Clients walk in and walk out with everything they need in this 'one stop shop.'

When Colleen decided to hang up her tape measure and take time to relax, travel and write a book on her experiences, she knew only a woman who had been down the road of recovery could run a business like this………..and that's where I come in.

---
Leave a comment