Our Move To Garran ACT
Date Posted:8 October 2016


With the news that Colleen's is moving from its current location in Philip to Garran, I wanted to share with you my journey and why I decided to move the shop.
Since my diagnosis in 2008, a lot has changed for women diagnosed with breast cancer, treatment is now done differently, e.g. chemotherapy before surgery. So it is with the choice of pocketed bras, a lot has changed. At my first fitting there were mainly, white, nude or black bras, not very pretty and certainly no strapless ones (for someone like me who liked wearing halter neck dresses this was something that took me a long time to come to terms with!!).
Today, not only do we have pretty bras in all sorts of colours and styles (including strapless!!!), we also have pocketed singlets, gym wear, gorgeous tops and night wear (I was asked why you would need pocketed nightwear. I like having "pyjama" mornings especially on holiday and if there are others around, I don't want to have to put a bra on in order to be even. I can sleep with a leisure form and remain "even" when I wake up - easy!!!) I am passionate about showing you what's now available, so that you have a choice and don't feel like I did when I couldn't wear my halter neck tops. Now, there is a solution for most situations and we love finding you the right bra to wear under that special occasion dress, especially weddings! (Plus we get to see all your gorgeous outfits!).
I'm often asked by friends, family, former work colleagues how they can support a loved one newly diagnosed with breast cancer. I usually write up a list of practical ideas which helped me, and send it off. The thoughtful gift is greatly appreciated by both the friend and their newly diagnosed loved one. So, at Colleen's you will now be able to find gifts such as an organic skin care range, Slumbies (slipper socks) ideal for hospital visits or travel, books such as "Lifestyle After Cancer" by renowned UK oncologist Professor Robert Thomas who was recently a guest on a cancer council webinar "Wellness After Cancer Treatment" as well as soy candles and I'm sure the range will be added to. I welcome your ideas for gifts which you really appreciated during treatment.
I will also be adding Cancer Council approved sun hats to complement our range of turbans, scarves and wigs and adding to the styles of pocketed swimwear for you to choose from.
Taking all that into consideration, I needed more room to display what's now on offer and so the need for larger premises.
Our Garran shop has two additional change rooms for trying on bathers or pocketed apparel or when you don't require our expert fitting advice. This means that you can browse and try on at your leisure.
When you do require our expert fitting advice, you will still be able to browse the styles you like, ask questions about what might be a good fit for varying situations, try things on, listen to our advice and then decide on the lingerie you feel most confident and comfortable in. We would appreciate you making an appointment for your fitting so we can give you the time it takes to fit you for your bra, breast form or wig.
Our last week in Phillip will be an emotional one. Saying goodbye to where, like so many women, I had my first fitting 8 years ago, will bring a tear or two I'm sure. That first fitting made me feel "normal" at a time when I was riding the breast cancer roller coaster and gave me the courage to face the rest of my treatment one step at a time. I want to acknowledge Colleen Findley who not only gave me that courage but gave it to so many many women over the time she owned Colleen's. The name Colleen's will remain and I hope that Colleen's in Garran will continue to encourage and empathise with many more women who find themselves on the roller coaster that is breast cancer.
Colleen handing over the keys of the Phillip shop to me in January 2014.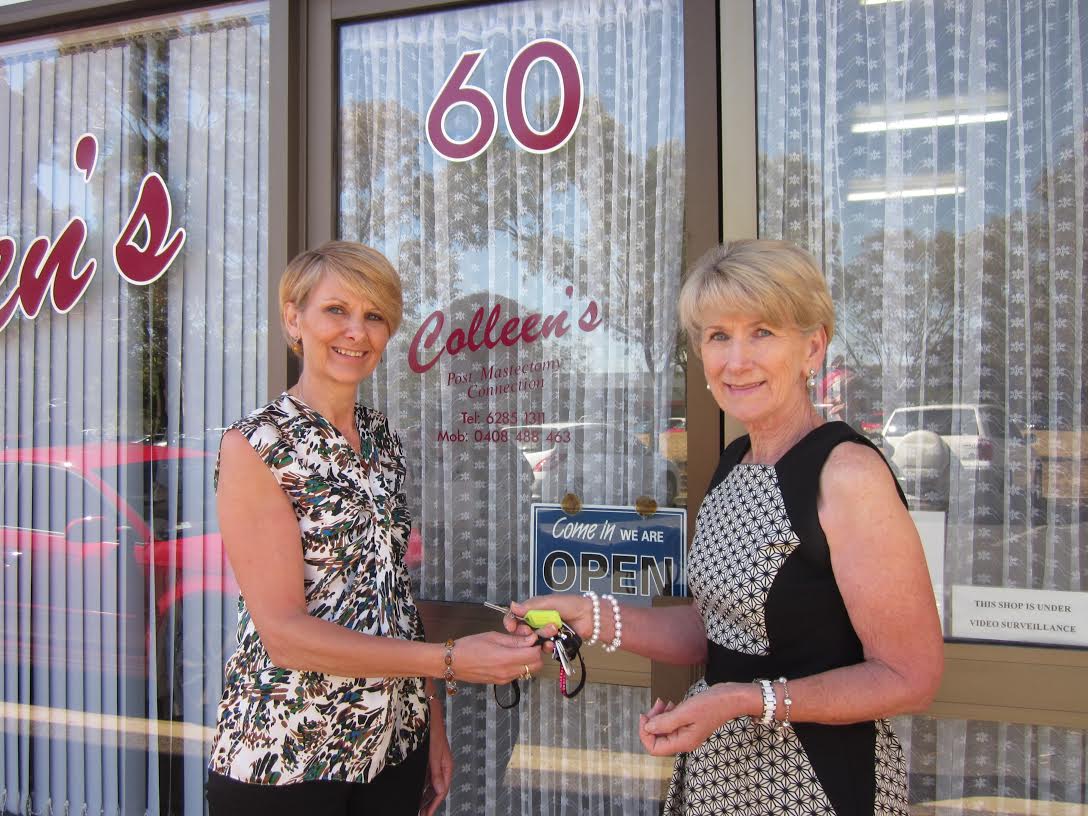 ---
Leave a comment